MetaReflex World
is the new game app
play-to-earn
of Reflex.
Customize your avatar, buy your new home, vehicles and items. Go to work, gym, school and challenge other people in our PvP fight sections.
The main goal of the game is to earn "Money", the in-game currency and $RFX, our crypto token.
--> DOWNLOAD THE GAME NOW
Home
In this section you will find all the main information about your avatar.
You will be able to upgrade your home, check your account, your stats, skills, health and energy.

You will be able to see your purchased items, your garage, hangar and quay.
These last sections are the ones that will lead you to PvP.

Items give you skills that are used in arena fights, while vehicles are used to compete in street races against other players.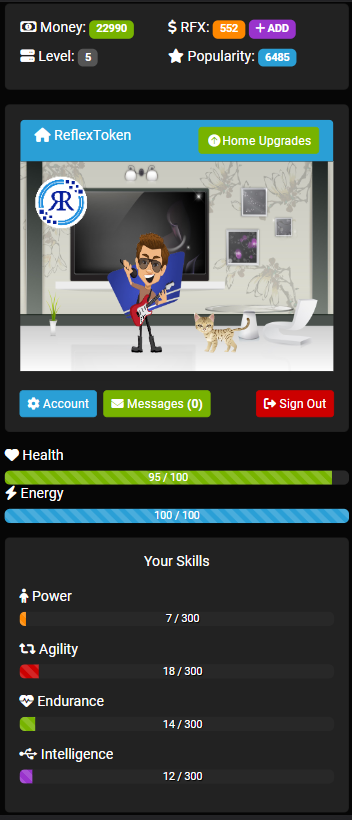 Go to Work
As in real life you have to work to survive, even in MetaReflex earning Money is a fundamental function.
From the left menu enter "Work" and you will access the section where you will find all the active job opportunities.

By clicking on "Start Work" it will start your activity and after the "Work Time" is over you can return to this section to collect your salary.

Don't forget that by working, your health and energy will go down, working is wasteful.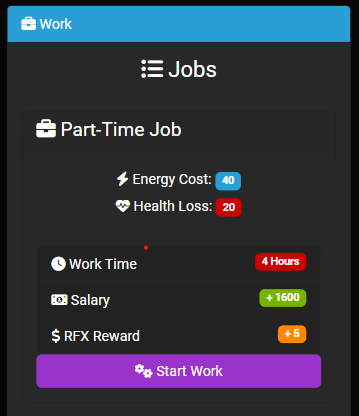 Properties
When you'll have enough money, go buy some "Properties".

You will be able to earn passive Money income on a regularly base.

Once bought a property will be permanently enabled fo your avatar, so you can come back every time the income period is ready to take your profits.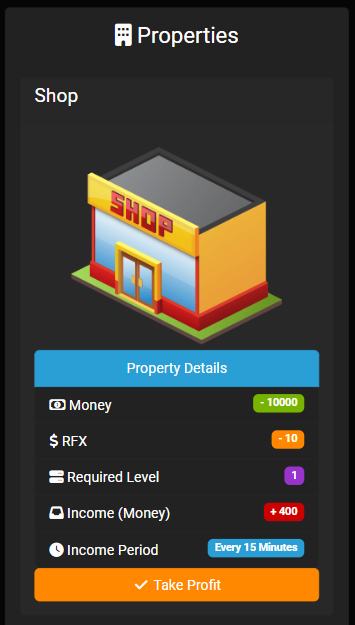 Shop
From the left menu of the app you can join the "Shop".

Here you can find a huge assortment of items that will give you various boosts to your skills. You can purchase various things, such as weapons, food, clothes, and accessories.

Everything available in the shop will give you a specific boost to your skills, so read the details carefully.

Your skills will help you to fight in the arena, the stronger you are the more popularity and money you will receive.

To increase your skills you can also go to the Gym and School, so always remember to train your body and mind as well.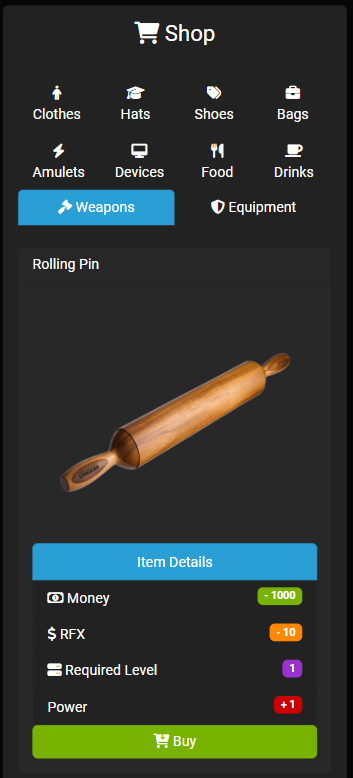 Hospital
Unfortunately, your avatar in his virtual metaverse also needs rest and care when performing activities.

In the hospital you can recover the health of your avatar.

Health care in the hospital is the best way to recover health and restart with the various activities.

Please remember that healthcare has a monetary cost, so take it easy.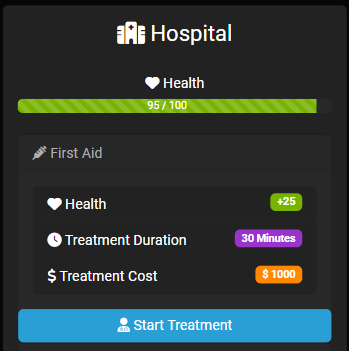 Fight Arena (PvP)
MetaReflex is not just a static game, you can challenge other users in the "Fight Arena".

In this section your avatar will challenge a user directly with items and skills.

Increasing your skills is a very important thing in MetaReflex.

When you win a challenge you will earn Money, RFX and Popularity, which will let you climb the leaderboard ranking, but beware, losing means losing money and respect.

Practice your skills because other users can challenge you even if you are offline.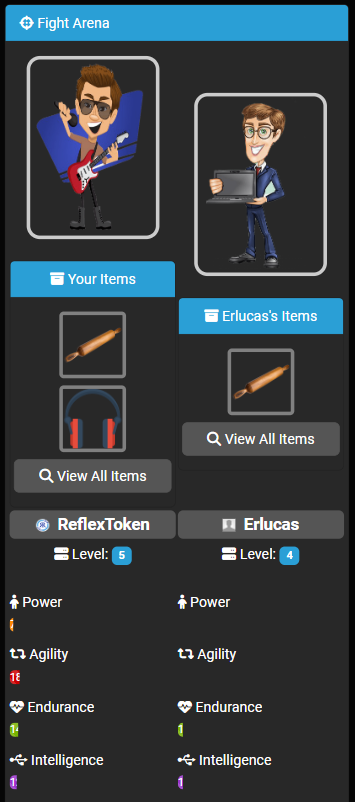 Street Races (PvP)
Also in this section you can challenge real users, but this time on the road with your vehicles.

Buy a Garage from your home and then some cars or motorcycles, come to this section, choose your vehicle and off we go.

Of course, as well as skills, you can upgrade the speed, acceleration and stability of your vehicles to become the king of the road.

Also from these challenges there are big prizes for the winners, Money, RFX and Popularity.

What are you waiting for?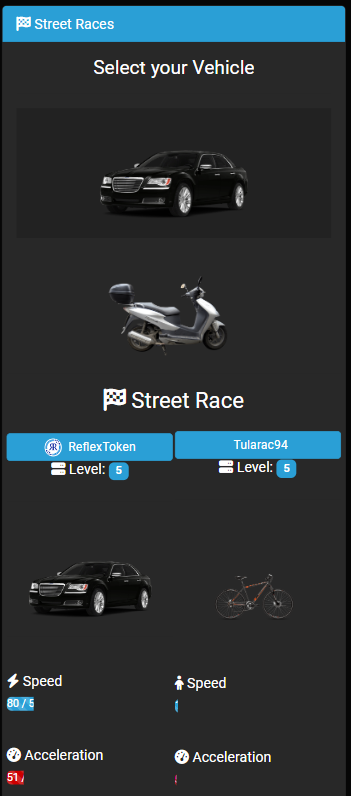 Earn and Withdraw $RFX
As you may have understood MetaReflex is a crypto play-to-earn game.

Within the game you can earn RFX in various ways and with various activities.

It all depends on you, the stronger you are, the more RFX you can earn.

Payments will be made on Quasar Wallet every 1st of the month to all users who have reached at least 5000 $RFX.

(if you don't want to withdraw your RFX, perhaps because you need it to grow in game, just DO NOT fill in the section of your wallet in your account settings)