Reflex has started a new partnership with Elitium!

Elitium is creating a digital economy based on blockchain, powered by their native cryptocurrency EUM. EUM is the no. 1 coin in the luxury industry (erc20 token) and Top 350 on Coinmarketcap. 

To celebrate the partnership we decided to give away 100 RFX tokens to everybody who registers for the Elitium Card until the 22nd of August.

The card allows you to spend your crypto in more than 46m+ stores worldwide and gets you exclusive luxury deals you can't find anywhere else.

Please read the full article to explore all benefits, you can sign up for the airdrop by click on the button below after you registered for the Elitium Card here.
Prize: 100 RFX

START DATE: 7th August 2020
END DATE: 22th August 2020

AIRDROP DISTRIBUTION: From 24th August 2020 to 27th August 2020
_________________________________

IMPORTANT:
You will receive your RFX in your Reflex Cloud Mining App balance at the end of the airdrop.
About Elitium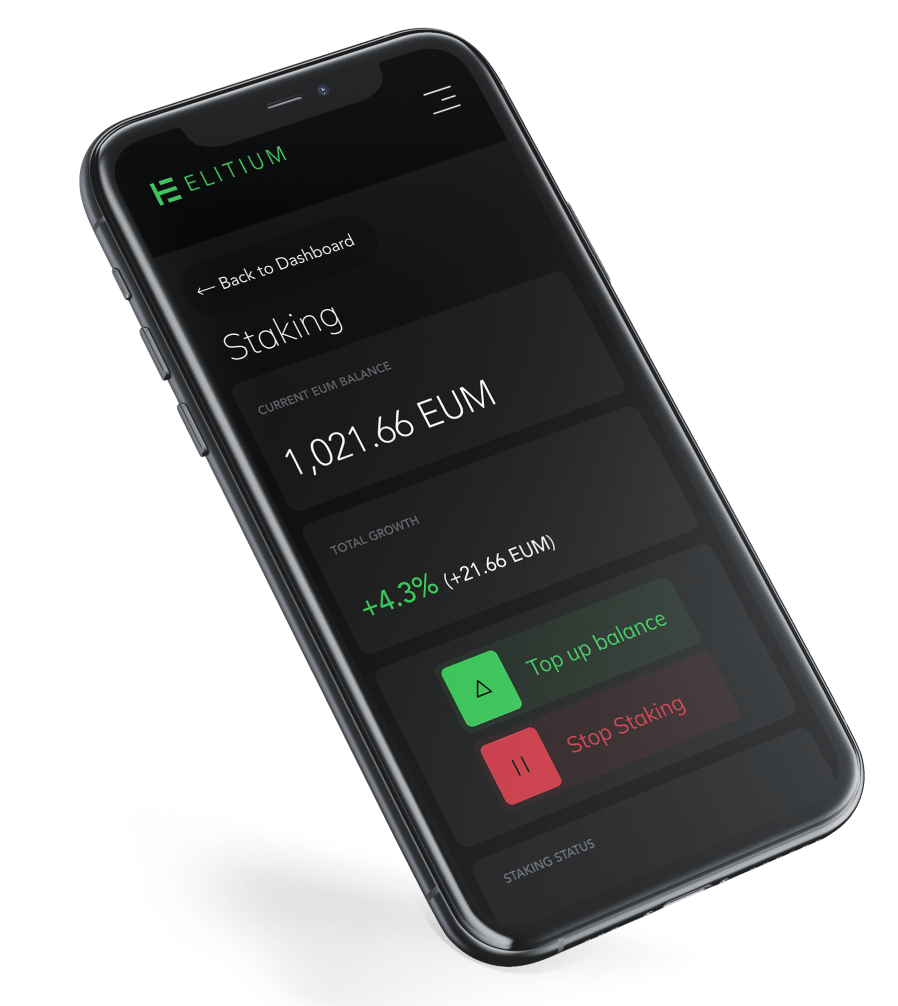 Spend 12 Cryptocurrencies Worldwide With The World's First Luxury Crypto Card
Elitium, the FinTech pioneer, has just launched the world's first luxury-focused crypto card, bringing all the benefits of crypto to cardholder's pockets and smartphones.
The Elitium Card focuses on offering a familiar digital banking experience. Letting cardholders send and receive currency through a digital IBAN gateway — as well as track spending and rewards using the Elitium App.
The key difference is the card is powered by the blockchain and enhanced by crypto: meaning you get to enjoy complete independence from any third party thanks to the decentralized nature of your personal card wallet.
Better still, the Elitium Crypto Debit Card:
Has 0% fees on deposits, transactions, and withdrawals

Lets you spend EUM, BTC, and ten other cryptocurrencies (only exchanging them into the local currency at the point of sale)

Offers a super-secure way to store all funds with state-of-the-art encryption
Plus, you'll get up to 6.5% staking rewards when you store a balance of EUM on your card, which you can spend any time in nearly any store that accepts card payments. 
There are three Elitium Card tiers, so here's a rundown of the differences to help you know which one to choose.
Elitium Black Card
The Elitium Black Card is the entry-level option. It has no minimum EUM balance requirement. There are 0% fees on deposits, withdrawals, and transactions. Plus, you'll get up to 6.5% staking rewards on your EUM balance and 5% cashback with brands like UberX, Booking.com, and Apple.
Flexible spending limits, an internal fiat-crypto exchange, and a suite of DeFi applications make this an attractive way to explore the world of crypto cards — particularly as all cards support Apple, Google, and Samsung Pay.
Elitium Metal Card
The Elitium Metal Card is a step up from the Black Card with rewards that reflect its status. You will need to hold a minimum balance of 5,000 EUM. But the addition of 0.5% cashback on all spending — alongside 10% cashback on Apple purchases — makes this a small price to pay for generous rewards.
Further benefits like discounted stays at luxury resorts, half-price wellness treatments, and 5% cashback on superyacht charters make this exclusive metal crypto card even more appealing.
Elitium Diamond Card
If you purchase an Elitium Masternode, you might be able to get your hands on a limited-edition Elitium Metal Card. It's called the Elitium Diamond Card. And it comes with a real diamond embedded in the top-right corner.
There are just 18 Elitium Diamond Cards in existence (with only a few left to issue), so you'll need to act fast to get one.
But if you're one of the fortunate few, you'll get 1% cashback on all spending, an additional 25% annual staking rewards (that's on top of the standard 6.5%), an extra 10% cashback on an array of top-branded partner services, and one free wellness treatment per year.
If you'd like to request an Elitium Diamond Card, first invest 100,000 EUM in an Elitium Masternode, then This email address is being protected from spambots. You need JavaScript enabled to view it..

The easiest way to get in touch is by joining their telegram group:
https://t.me/elitiumofficial

Summing Up: It's A Smarter Way To Manage Your Money
No matter which Elitium Card you choose, you'll always get generous rewards, select luxury partner benefits, and tailor-made experiences: from extra cashback and exclusive discounts to unique travel experiences in uncharted territories.
Plus, you'll be able to use your IBAN to pay your salary straight into an independent account, get up to 6.5% rewards knowing that no bank, no authority, not even Elitium, can touch your funds.
And if you fall victim to fraud, your funds are fully insured — just like you'd expect from any reputable card provider.
However, unlike any other provider, Elitium gives every cardholder early-bird access to investment opportunities in tokenized luxury hotels through Elitium Capital, so you'll get first-option to buy digital shares in luxury real estate courtesy of Elitium's own Digital Share Offering platform.
Meaning the Elitium Card is not only the world's first-ever luxury-focused crypto card. It's the only crypto debit card in the world to include such a unique offer.

To register for the airdrop and get early access to the Elitium Card please click the button below: